By: JJ Ferrigno
First off, I want to apologize to you, my wonderful readers. Last week (on such a hallowed day no less, haha) I lied to you. I am so sorry. Haha, yeah, I said I watched 19 hours of Stranger Things for you, while what I really watched was 17 hours because 8+9=17, silly ol' me. Now that my groveling is done, onto the article.
As you may or may not know, Thor Ragnarok premiered on November 3rd, 2017. For those of you Marvel movie lovers that dig Thor you probably have seen or have plans to go see this movie soon. For those of you that don't necessarily vibe with Thor, let's be real, it's a superhero movie and if you're reading this article, you're probably going to go see it anyway. Yeah, that's right! I know you! I can see into your soul! Haha, just kidding…or am I?
This installment of the franchise's God-liest Avenger holds many surprises inside. Without giving anything away and only sharing what can be seen in the trailer anyway, Thor gets a haircut (God forgive whoever dared cut those luxurious locks), He reunites and fights (haha rhymes are fun) with his "friend from work" The Incredible Hulk, and his hammer, Mjolnir, is destroyed apparently. Poor thing. An added thought to increase the sadness of that fact, Mjolnir is said to be alive in some way, so technically his hammer was…murdered? That is pretty dark Marvel, leave the innocent sentient weapons alone!
In honor of this movie premiering and the hype surrounding it, we at Misfit's Tavern want to keep the hype train chuggin' along all week. So to keep you excited, happy and entertained (I do so much for you guys) I have compiled a list of some of Thor's Greatest battles and fights. 
Let's get down to our throwdown showdown!
#5. Thor vs Hercules: The Incredible Hercules Vol 1 #136
This was a long-awaited battle by fans of Hercules and Thor alike. The premise behind this fight is a bit convoluted, but the battle itself is fun, humorous and entertaining as hell. Hercules is duped into impersonating Thor to carry out a dark deed that is necessary to the complicated plot. Thor arrives thankfully, disguised as Hercules (wait…what?) This comedically influenced fight culminates when Thor-Hercules kicks Hercules-Thor square in the holy trinity and follows it up with a nice atomic wedgie. If you don't believe me or want to check out this visually impressive fight for yourself, take a gander at The Incredible Hercules Vol 1 #136.
#4. Thor vs The World Serpent: Thor #380
In this showdown, Thor battles Jormungand, the World Serpent! Thor, who was previously injured in earlier events, is pitted against a serpent that was destined to destroy him. Throughout the entire stunningly beautiful fight, the two send powerful attack after powerful attack at each other, until finally, the serpent clamps its gigantic jaws around our beloved Asgardian. So sad to see, the serpent seemingly fulfilled his purpose, until….his teeth are shattered from the inside of his mouth. "Outh, thahh wreawy hurrr, thawwww" -The World Serpent. The issue ends with a final clash between the two, resulting in Jormungand being killed and Thor's armor laying on the ground, empty. Oh, sure he kills a giant serpent and then leaves so someone else has to clean up his mess. Real classy guy.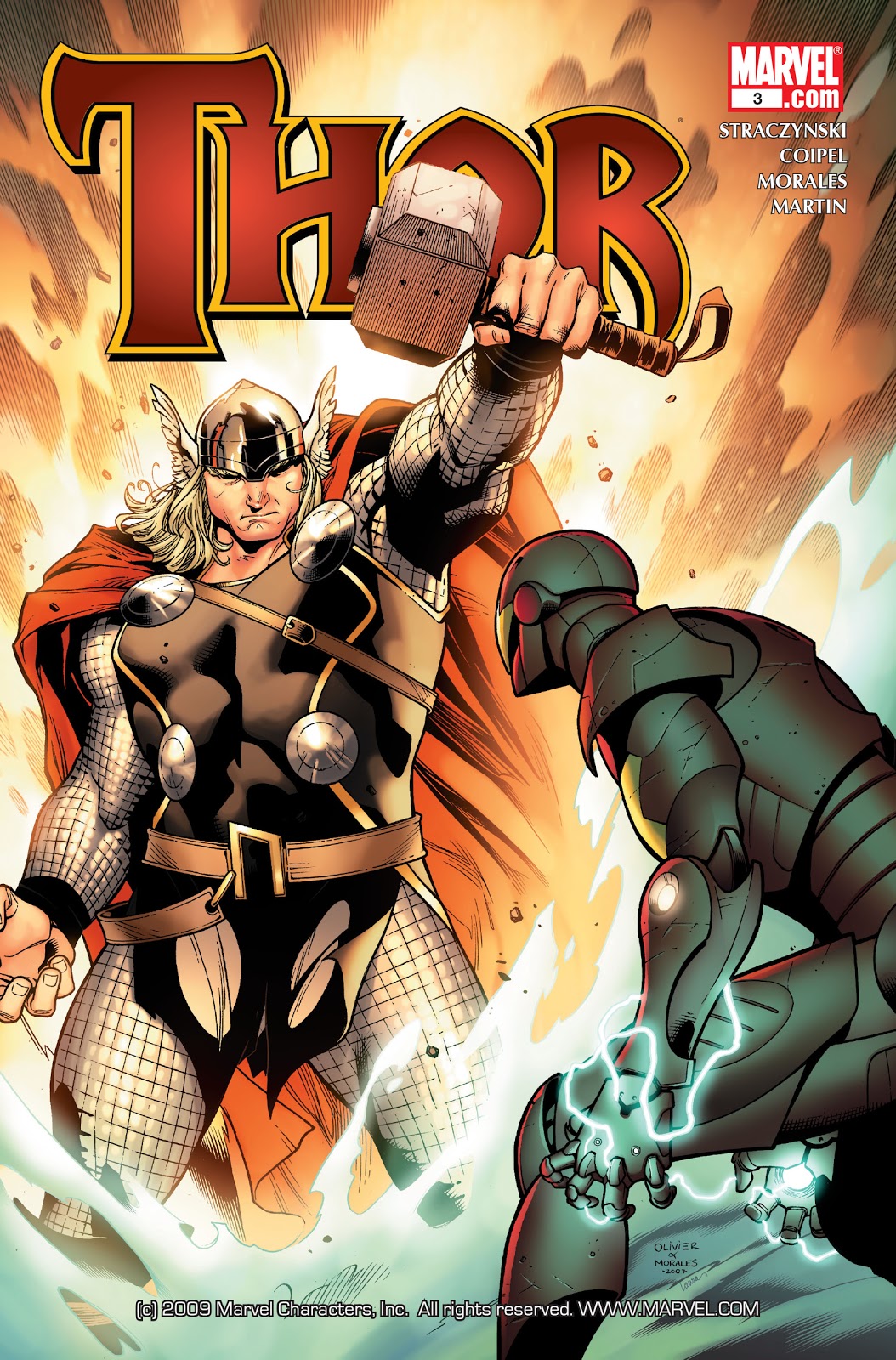 #3. Thor vs Iron Man: Thor Vol 3 #3
After such events of the superhero civil war, like Tony Stark championing a government registration system for supers as well as creating a clone of Thor, named Ragnarok (OMG LIKE THE MOVIE??) that murdered Goliath, Thor and Tony meet in New Orleans. Tony informs the god of the new registration system which is welcomed by lighting bolts and insults courtesy of Thor. Thor easily shrugs off any attacks attempted by Tony and informs him that he is no longer holding back from using his full strength on his former metal friend. Tony is embedded into the ground by a blow from Thor and is rebuked with "learn the difference between a god of thunder and a mortal man in a metal suit". Tony hastily offers a compromise which causes Thor to walk off, leaving a battered Iron Man to walk home in broken armor. While this is an excellent fight, it is sad to see these two former friends great each other with such malice and contempt.
#2. Thor vs The Incredible Hulk: Hulk Let the Battle Begin Vol 1 #1
This is one of my favorite fights between Thor and The Hulk. These two always have interesting and fun to watch battles, however, this battle was the first definitive win for The Hulk. Now I know what you're thinking: "But this is a list of all of THOR'S best battles". I hear you and my answer is simply, calm down. As Drake would say: you win some, you lose some, as long as the outcome is income. Now I am not 100% sure that the outcome was income, what I do know was that this was a great battle. It took place at Mount Rushmore which is pretty freakin' cool (fuck it, let's have them fight at a national monument for some reason). Plus, Hulk earns his first official win by grabbing Thor's hand and pull-off the ol' "why are you hitting yourself? why are you hitting yourself?" with Mjolnir and Thor's beautifully sculpted face. Overall, enjoyable battle, humorous style of fighting and two great characters duking it out.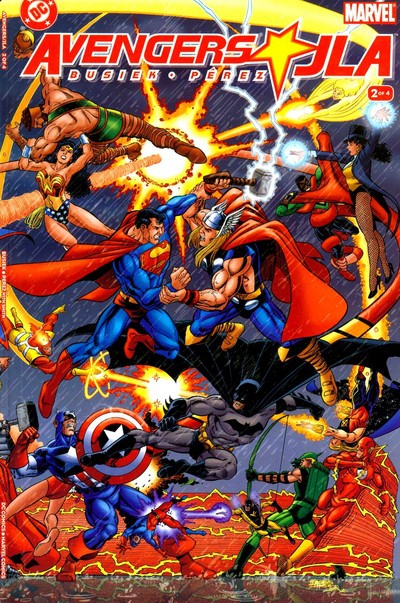 #1. Thor vs Superman: Justice League of America/Avengers #2
With the JLA and Avengers pitted against one another in a deadly scavenger hunt across the multiverse, many intense battles ensue. When the score is 6 to 5 in favor of JLA, Thor and Superman battle over the cosmic cube. What is better to settle a religious debate than to have your gods kick each other's asses to prove whos best? The world would be so much simpler (and cooler). With their teams fighting messily around them, Supes and Thor proceed to decimate a forest around them (STOP DEFORESTATION!) while hurling insults and attacks at one another. One thing you have to love about large scale battles in comics is all the shit talk that goes on during the altercations. I can barely sip soup and listen to music at the same time, let alone use superpowers and think of witty zingers to mentally demoralize my opponent. Props to you superheroes, that's impressive. The thing I love about this fight is that it actually has the balls (can a battle have balls?) to declare a winner. The winner, after a well-fought battle on both sides, is ultimately Superman (Line up and shake hands, good game, good game, good game). Though Thor lost, this battle deserves the number one spot because not only is it a stunning fight visually and has some incredible sequences, it brings together both universes for an exciting battle that puts all of our favorite heroes in jeopardy, facing off against one another. Good job breaking down barriers comic book people.
So? What did you think? Did you like my list? Anything you think I missed or should have added? Are you still hyped to see the new Thor Movie? Let me know the answers to any of those questions or just say hi, either down in the comments or on any of our social media accounts.
Also don't forget to follow, like and subscribe to our blog and social media accounts.
Peace and love Misfits. May the many-faced God bless you all.